Information
Established in 1951

Originally a foundry-pattern maker we nowadays produce
resin and metal moulds for the manufacture of prototypes of plastic
goods as well as for the mass production of such articles.

We have specialised in casting polyurethane parts (PUR),
and are used to being challenged to fulfil short term demand.

Our customers are appliance manufacturers, makers of general or special purpose machines, firms in the aviation industry or car manufacturers, to name just a few.

Well known designers belong to our established clientele.

We also enclose electronic components with resin in accordance to customer
specification, and are only too happy to give specific advice in this field.

Our modern machines enable us to handle the mixing and dosing of substances from
soft (shore A 30) up to hard (Shore D 85), weighing from 5 grams up to 5 kilograms.

For a number of years we have handled a PUR-casting resin which is in
accordance with standard UL 94V-0.

In order to achieve required surface effects we use either glass, ball or
sand-blasting techniques.

Our in-house lacquering facilities allow us to provide the desired product finish.

With our wide range of machine tools we are able to fulfil all your requirements
regarding the shape of your products.

You can rest assured that your orders will receive our careful attention and,
of course, punctual execution.

How can you find us....
Duebendorf 10 km east of Zurich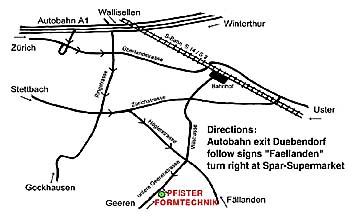 click map to zoom !